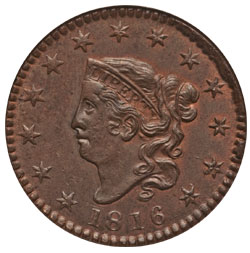 The Coronet Head Cent was produced each year between 1816 to 1839, which was considerably longer than the duration of previous series of large cents. The pieces were typically struck in higher quantities with the exception of two scarcer dates. Certain varieties are also scarce and receive added attention from collectors.
The original design by Robert Scot was used from 1816 until 1835. For the final years of the series from 1836 to 1839, a modified version of the design by Christian Gobrecht was used. This modified design featured a younger head of Liberty, which bore strong similarities to the subsequent series. Despite some criticisms of the design for the Coronet Head Cents, the design would remain the basis for all large cents until their replacement with the small cent in 1857.
For the present series, the smallest reported mintage was for the 1821 cent with 389,000 pieces produced. The 1823 is actually a scarcer date, although the exact mintage is unknown. The highest mintage appeared near the end of the series when 6,370,200 pieces were produced in 1838.
Coronet Head Large Cent Mintages:
| Issue | Mintage |
| --- | --- |
| 1816 | 2,820,982 |
| 1817 | 3,948,400 |
| 1818 | 3,167,000 |
| 1819 | 2,671,000 |
| 1820 | 4,407,550 |
| 1821 | 389,000 |
| 1822 | 2,072,339 |
| 1823 | Unknown |
| 1824 | 1,262,000 |
| 1825 | 1,461,100 |
| 1826 | 1,517,425 |
| 1827 | 2,357,732 |
| 1828 | 2,260,624 |
| 1829 | 1,414,500 |
| 1830 | 1,711,500 |
| 1831 | 3,359,260 |
| 1832 | 2,362,000 |
| 1833 | 2,739,000 |
| 1834 | 1,855,100 |
| 1835 | 3,878,400 |
| 1836 | 2,111,000 |
| 1837 | 5,558,300 |
| 1838 | 6,370,200 |
| 1839 | 3,128,661 |