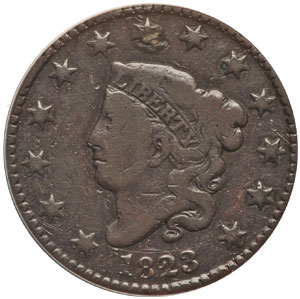 From an unknown mintage, the 1823 Coronet Head Cent (Buy on eBay) is usually considered to be the rarest of the middle date large cents. Two major varieties exist, one with a normal date and the other struck from an overdated 1823/2 die.
Despite the scarcity of this issue, lower grade examples can be found at reasonable cost, but these are often porous, corroded, or otherwise damaged. High grade examples are rare and very few true uncirculated pieces exist.
An unofficial restrike for this date exists, made outside the Mint around 1860. It was created using a discarded 1823 obverse die paired with an 1813 reverse die. Both dies were heavily rusted and most examples will display both dies cracked fully across. These restrikes are believed to have been created at the same time and by the same people as the 1804 cent restrikes.
Coin Specifications
Designer: Robert Scot
Composition: 100% Copper
Weight: 10.89 grams
Diameter: 29 mm
Edge: Plain