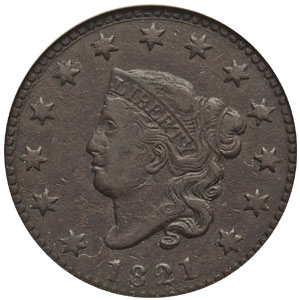 The 1821 Coronet Head Cent had a mintage of just 389,000, which represents the lowest reported mintage of the series. For all other dates with a known mintage, the figures exceed one million.
The rarity of this issue in mint state is well know.  Most examples of this date went into circulation and those that did survive in uncirculated condition may come with various problems. As a result, true gems are virtually unheard of, if any truly exist. Together with the two 1823 varieties this issue is the scarcest issue of the Coronet Head Cent series.
One of the finest known examples graded MS63 Red and Brown by PCGS sold for $29,000 at auction in January 2006.